Fentech manufacture 3 balancing machines – DCB-750, DCB-2000 and DCB-2000HD. The most common machine used in the engine reconditioning industry is the DCB-750.
DCB-750 Balancing Machine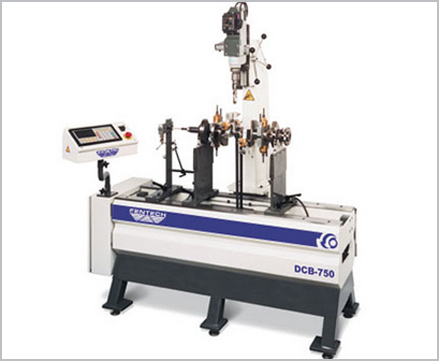 Motor: 0.75 HP (0.56 kW) DC
Balancing Speed: 350, 500, 750 RPM
Setup Units: inch or metric
Unbalance Units: ounces or grams
Dimensions: 70"L x 30" W x 72" H
Capacity: 500lbs (226 kg)
Maximum Length: 48" (1219.2mm)
The DCB-750 digitally controlled balancing machine is extremely accurate, yet simple to operate – resulting in faster, more profitable operation.
Heavy Duty Steel Base – for extreme rigidity and precision balancing.
Hard bearing design – allows for greater sensitivity resulting in accurate and repeatable measurements.
Heavy Duty Drill Tower – slides the full length of the balancer for ease and convenient use.
Digital Speed Control – automatically selects RPM speed to provide safe operation and maximum sensitivity.
Setup Memory – up to 100 setups can be stored in battery-backed memory.
Add/Remove Selection – with the touch of a button the proper angle and weight is displayed for either adding or removing material.
Drill Depth Indicator – calculates the proper drill depth for material removal.
Jog Button – allows the workpiece to rotate slowly for verification of setup and belt alignment.
Bobweight Card – computes and displays bobweight based on information entered.
Fentech Accessories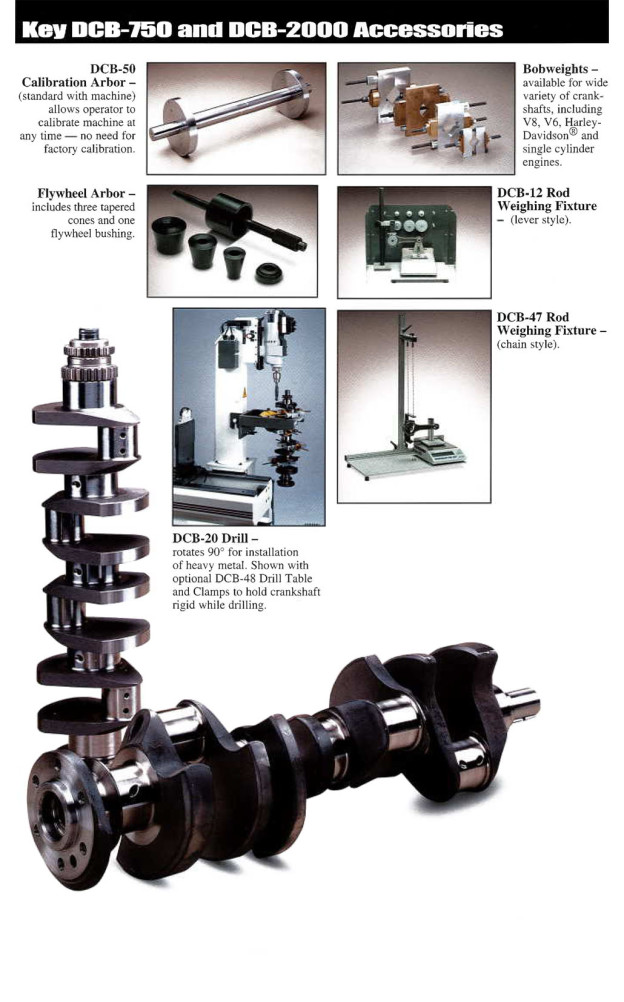 WST Heavy Metal Slugs
| Code | Diameter x Length | Tungsten | Steel | Net Gain |
| --- | --- | --- | --- | --- |
| HM05 | 1/2″ x 0.75″ | 43 | 19 | 24 |
| | 1/2″ x 1.0″ | 57 | 25 | 32 |
| HM06 | 1/2″ x 1.25″ | 72 | 31 | 41 |
| | 5/8″ x 1.0″ | 91 | 39 | 52 |
| HM07 | 5/8″ x 1.25″ | 114 | 49 | 65 |
| HM064 | 3/4″ x 1.0″ | 122 | 56 | 66 |
| HM750 | 3/4″x 1.25″ | 162 | 70 | 92 |
| | 7/8″ x 0.75″ | 127 | 58 | 70 |
| | 7/8″ x 1.0″ | 169 | 77 | 92 |
| HM09 | 7/8″ x 1.25 | 210 | 96 | 114 |
| | 1.0″ x 0.5″ | 111 | 50 | 61 |
| | 1.0″ x 0.75″ | 164 | 75 | 89 |
| HM10 | 1.0″ x 1.0″ | 227 | 100 | 127 |
| HM11 | 1.0″ x 1.25″ | 275 | 125 | 150 |